On Wednesday, February 19, MCTA Executive Committee met at Garfield Elementary. Topics of discussion included substitute teachers (How can MCTA welcome them in our buildings?), communication with our members via this webpage and social media, and upcoming events.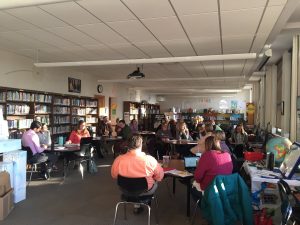 One new addition to this site is the "Know Your Contract" page. Each month we will feature an explanation and highlight of part of our contract. This month's feature is called "Hiccups," written by Rob Thompson, and it advises us on how to deal with problems at the early stages. Do you have questions about a part of the contract? Respond in the comments on that page, and we will address your questions and concerns.
Save the Date:
What:  District Staff Meeting to Discuss Re-Districting and Portrait of a Graduate
When: Thursday, February 27, 2020
Time: 4:00 PM
Place:  Medina High School Media Center
Please add this date to your calendar. It is important that educators have a voice in our district policies! Together, we are strong!