On January 28, MCTA President David Hamman and Digital Media Chair Stephani Itibrout attended the NEOEA Leadership Summit.
The theme was "World Cafe," with groups rotating to different stations for short, interactive presentations on combating educator burnout.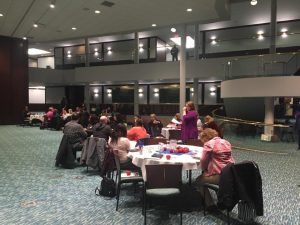 Would you be interested in attending an NEOEA or OEA event? There are many opportunities to learn from our local leaders.  Our next event is NEOEA's Legislative Reception on Monday, February 24. It is an evening to talk with our area's legislators over dinner.  The event is free; if you are interested, email David Hamman. See the attached flyer.
The event to follow is MegaConference on Saturday, March 7 from 8:30-noon, where educators can choose to learn about local and national professional issues.  MCTA will sponsor your participation, and breakfast and lunch are included. If you would like to attend, email David Hamman.